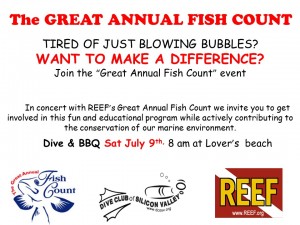 Bob Walsh visited Cuba in December and shared wonderful stories and pictures of the trip; Havana was great and many of the taxis were amazingly restored classics! Thanks, Bob! Now all of us want to visit Cuba...
Tim also shared pictures from last weekend's club dive at Monastery Beach that he organized. The ocean was FLAT and the entrances and exits were gentle - you don't see that very often at that beach.
Reminder: you need to book your Pt Lobos reservations for July 10th before all the spots are gone. And if you want to get a hotel room, book now. There is also a motorcycle race in Monterey that weekend so the hotels will fill up early.
Please take note pf the summary of upcoming club events and try to join us underwater.
Happy Diving!
Judy
Posted in
Uncategorized
Comments Off

on May 18th Club Meeting Recap
* June 1st - Jim van Gogh just got back from his first dive trip to Cuba. Come hear his stories and see all his great pictures -- he says the trip was an amazing adventure!
* June 4th - Tour of Hiller Air Museum (details will be emailed)
* June 15th - Dr Steve Lonhart of SiMoN will give a talk on Invertebrates at the club meeting
* July 6th - Mike will do a Fish ID class at the club meeting to refresh our knowledge in prep for the Great Annual Fish Count that weekend
* July 9th - Great Annual Fish Count event at Lover's Pt; includes dives and BBQ plus a party at Char and Andy's that night
* July 10th - "Day After" Dive at Pt Lobos - grab a reservation NOW if you don't have one yet at the Pt Lobos Dive Reservation Site
* August 17th - Dr Newman from DAN will give another great talk on dive medicine and how to be healthier divers